ESG Due Diligence: A Growing Workstream for Private Equity Investors
With the growing global focus on sustainability, Private Equity investors are beginning to take a closer look at Environmental, Social, & Governance (ESG) aspects of new target investments. In Q3 2022, TriVista asked ~40 respondents from 25 Private Equity firms about their approach to ESG Due Diligence.
NEARLY ALL PE FIRMS POLLED WITH FUND SIZES >$300M ARE CONDUCTING ESG DUE DILIGENCE ON AT LEAST 70% OF TRANSACTIONS.
WE ASKED: Have you/your firm ever conducted ESG Due Diligence as part of your due diligence process on an acquisition/investment target?
Source: TriVista 2022 ESG due diligence survey; n=40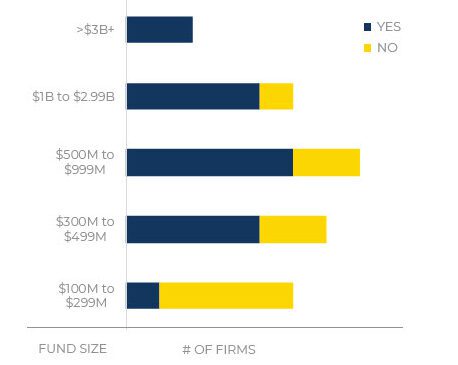 ESG AND ESG DUE DILIGENCE EXPLAINED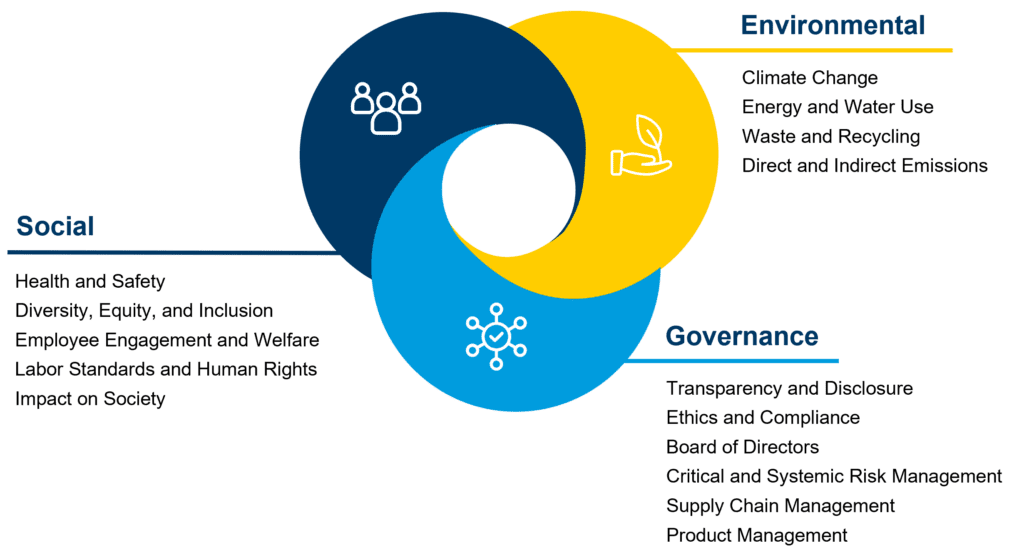 What is ESG?
ESG encompasses a broad range of considerations for investors and corporations alike. While some aspects may vary by industry, it typically includes environmental stewardship, social and stakeholder equity, and general corporate governance.
What is ESG Due Diligence?
ESG Due Diligence (ESG DD), is a comprehensive review of the programs, processes, and metrics an organization uses to measure, benchmark, and improve performance across these focus areas:
ESG Due Diligence is a risk-oriented materiality analysis
Findings can help drive investment decisions, and guide post-close improvement priorities
Tailored industry benchmarks allow organizations to form the basis for action plans during an ownership phase
It's a common misconception that ESG and Environmental DD are one in the same. While environmental due diligence frequently focuses on a company's physical real estate (e.g., soil contaminants), ESG Due Diligence provides a holistic review of an organization's entire value chain and considers how each aspect of ESG impacts the world. Across the board, the only consistent ESG monitoring conducted post-close is KPI tracking for reporting purposes.
WE ASKED: What type of ongoing ESG monitoring is your firm conducting throughout your portfolio? Shows the percentage of firms completing each ESG monitoring activity for each firm conducting ESG due diligence.

FOR PE FIRMS WHO HAVE NOT COMPLETED ESG DUE DILIGENCE HISTORICALLY, OVER HALF WILL SOON START TO CONDUCT ESG DUE DILIGENCE ON SOME DEALS.
WE ASKED: Over the next 3 years, do you envision conducting ESG Due Diligence as part of your standard due diligence approach for new investments?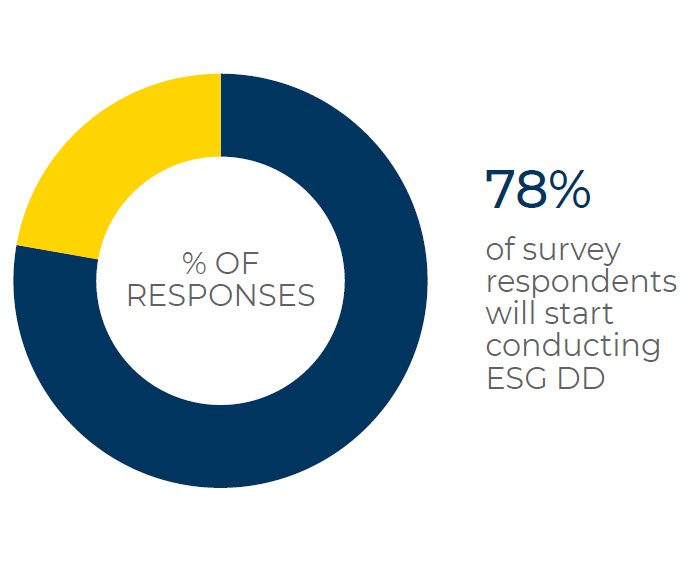 OUR ESG DUE DILIGENCE APPROACH
Our ESG Due Diligence approach focuses on risk mitigation, leveraging in-house experts across all functional areas. We include a comprehensive review of ESG programs, processes, and metrics.
Our reports are based on standards from the Sustainability Accounting Standards Board (SASB) and the Global Reporting Initiative (GRI), and can be shared with management teams, limited partners, investment committees, and board members.
We compare industry-specific ESG requirements to TriVista's industry knowledge as well as leverage our strong supply chain knowledge to create a well-rounded report.
Our full report includes focus areas by industry as well as an ESG glossary.
---
To discuss ESG Due Diligence for your next transaction, contact us today:
Contact Us Page End CTA
"*" indicates required fields
Categories: