Environmental, Social, and Governance (ESG) Due Diligence
With a growing global focus on sustainability and corporate responsibility, business leaders are looking to assess their Environmental, Social, and Governance (ESG) strategy. ESG considerations are at the forefront of stakeholders' minds and our team can help assess and measure a company's ESG processes, programs, and metrics.
Our Capabilities: Go Beyond Environmental
While the environmental portion of ESG makes up an important part of sustainability considerations, ESG and environmental due diligence are not one and the same. Environmental due diligence narrows in on a company's physical footprint and the effects that their processes and operations have on the environment. ESG due diligence takes a more comprehensive approach to look at long-term environmental impacts and incorporates social and governance facets as well, to provide a 360-view of an organization's entire value chain.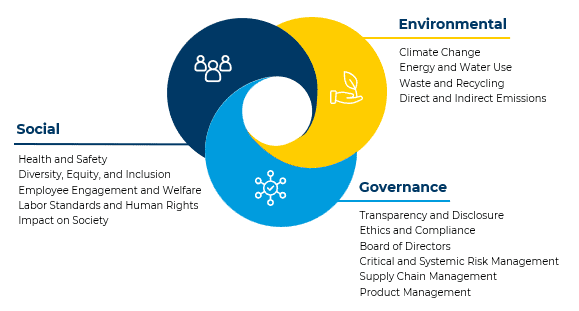 Our Engagement Approach
We know that every business faces different ESG challenges. When you work with us, you can expect a team with deep industry expertise and an engagement approach that ties directly to a company's ESG objectives.
TriVista's ESG due diligence offering reviews ESG programs, processes, and metrics. Utilizing proprietary benchmarks, our experienced ESG, supply chain, and operations experts help our clients navigate complex ESG due diligence assessments in accordance with industry-specific requirements and regulatory requirements such as the Sustainability Accounting Standards Board (SASB).
What To Expect
TriVista will produce an ESG due diligence report that can be shared with management teams, limited partners, investment committees, and board members to ensure all stakeholders are aware of the risks and opportunities found during diligence. After the transaction, your team can utilize baseline KPIs from the report to quantify potential ESG improvements to all stakeholders.
TriVista's ESG due diligence workstream has extensive overlap with our traditional operations, technology, and food safety due diligence offerings. Learn more about our other due diligence offerings below.